Fighting for answers: Innovative approach to epilepsy helps Emma thrive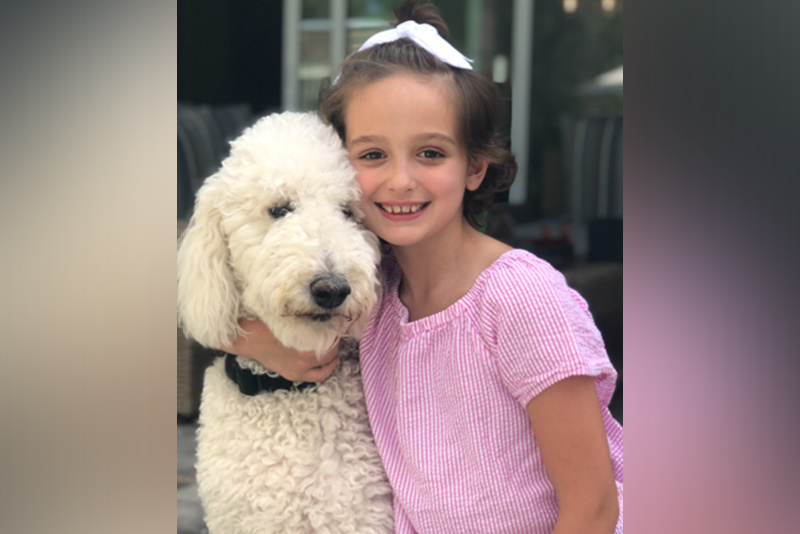 As a nurse, Lynda Coto was used to solving problems — until she was faced with her own daughter's seemingly inexplicable illness. "I always have answers, and if I don't, I find them," she says. "But this time, I just didn't know."
The questions surrounding Emma's health began almost as soon as she was born. At just 24 hours old, she had trouble latching to breastfeed and was vomiting. Soon, she became inconsolable. Lynda, already the mother of three older children, found herself second-guessing her skills as a mom. "I could tell something wasn't right," she remembers.
Beginning a life-changing journey
That night was the beginning of a seven-year journey that would bring the Cotos from Florida to Pennsylvania and, ultimately, to Boston. Within three hours of being released from the hospital, Emma went into respiratory arrest. When she went limp, Lynda frantically performed CPR until paramedics arrived.
But things didn't improve once Emma arrived back at their local hospital near Tampa. Instead, Emma's oxygen saturation continued to drop, and her blood sugar level was only 10. When Lynda's husband, Danny, asked what was happening to their daughter, she had to admit she didn't know.
"I sensed that Emma's medical condition had surpassed that hospital's capabilities," she remembers. "That's when my life changed and my advocacy for my daughter began."
Continuing the fight
Emma was then transferred to a larger hospital, where radiologists confirmed that she had experienced seizures and a stroke as a result of her low blood sugar. Ultimately, the Cotos decided to seek more specialized care for Emma at a children's hospital in Philadelphia. There, she was diagnosed with hyperinsulinism, as well as a genetic condition called mosaic Beckwith-Weidemann syndrome with mosaic trisomy 12, and had 85 percent of her pancreas removed.
Yet, Lynda knew something was still off. When Emma was about 2 years old, she started having "staring spells." which Lynda recorded and brought to their epilepsy doctor in Florida. But she didn't feel like he was taking the situation seriously. Over time, Emma's seizures became more severe and didn't respond to medication. 
Frustrated, Lynda continued to fight for her daughter. "I was in this situation where I was constantly having to assess whether Emma was receiving the right treatment, instead of just being her mom," she says.
Learning about RNS
Worse, it seemed that any kind of excitement could trigger Emma's seizures. "Simple things that bring other children joy, like balloons or a party or a trip to a park, would bring on these massive seizures," says Lynda. She knew something had to change.
Through her research, Lynda learned about the responsive neurostimulation (RNS) system, a pacemaker-like device that monitors and helps prevent seizures (see sidebar below). When Emma's doctor in Florida said the treatment would be difficult to obtain, the Cotos reached out to the Epilepsy Center at Boston Children's Hospital. 
"We searched for hospitals that handle the most severe and complex epilepsy cases and all signs pointed to Boston," says Lynda.
A new sense of confidence
The family says they noticed a difference even before they boarded a plane to fly north. "From the moment I got on the phone with Boston Children's there was a sense of confidence I hadn't encountered before," says Lynda. "I didn't have to overexplain Emma's condition to them or beg them to believe me — they just understood."
Emma's care team is diverse — and large. It includes the center's director, Dr. Phillip Pearl, as well as Dr. Arnold Sansevere, epilepsy surgery program coordinator Cheryl Cahill, and a host of 15 epileptologists, two epilepsy surgeons, and two epilepsy neuropsychologists — all supported by teams in epilepsy social work, nursing, child life, nutrition, and neurodiagnostic technology.
Emma went through a series of noninvasive procedures, which allowed her care team to identify the source of her seizures and evaluate the functional properties of this area of her brain. When it became clear that RNS was indeed an option for Emma, the Cotos relocated to Boston for five months while she underwent testing and then placement of the RNS device. Continuing her role as Emma's advocate, Lynda fought for their health insurance to cover the approach — and won.
Making leaps and bounds
Now 7, Emma is "making leaps and bounds," says her mom. Although she couldn't read just a couple of years ago, she's now zipping through books, loves math, and is even becoming fluent in French. Once asked to leave dance classes because of the distraction her seizures caused, she's now playing piano and has been told she's musically gifted. A positive, social butterfly, she's finally able to be part of the action instead of relegated to the sidelines.
It's a remarkable change that serves as proof the fight was worth it. And while Lynda will never stop advocating for Emma, she says Boston Children's has allowed her to relax a bit. "They treat me like a part of the care team while still letting me focus on just being her mom."
What is RNS?

Like a pacemaker for the heart, RNS involves a similar device for the brain. Once implanted, the NeuroPace device monitors and records brain activity and then delivers electrical stimulation with the goal of stopping seizures. The system's software allows physicians to download these recordings even after the patient returns home. "Too much stimulation can interrupt normal brain function," says Dr. Scellig Stone, the neurosurgeon on Emma's team who implanted her RNS device. "The nice thing about this device is that it only stimulates the brain when necessary."

This new approach is FDA-approved for adults and is used in individualized cases in eligible children in whom the source of seizures has been identified and RNS is more suitable than other available procedures, such as surgical resections, laser-induced ablations with robotic assistance, and a variety of other implanted devices and neuromodulation techniques.  All of these options are considered for patients evaluated at the Boston Children's Epilepsy Center.
Learn more about the Epilepsy Center.